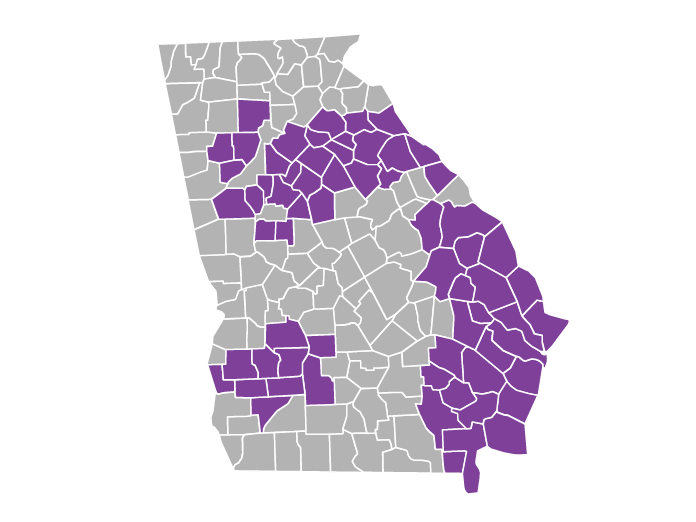 Coverage counties
Appling, Bacon, Baker, Barrow, Bartow, Brantley, Bryan,  Bulloch, Burke, Butts, Calhoun, Camden, Candler,  Charlton, Chatham, Cherokee, Clarke, Clay, Clayton, Cobb, Columbia, Coweta, Crisp, DeKalb, Dougherty, Douglas, Effingham, Elbert, Emanuel, Evans, Fayette, Fulton, Glynn, Greene, Gwinnett, Henry, Jackson, Jasper, Jefferson, Jenkins, Lamar, Lee, Liberty,  Lincoln, Long, Madison, McIntosh, Morgan, Newton, Oconee, Oglethorpe, Paulding, Pierce, Pike, Randolph, Richmond, Rockdale, Schley, Screven, Spalding, Sumter, Taliaferro, Tattnall, Terrell, Walton, Ware, Wayne, Wilkes, Worth
State highlights
PCP required; no referrals required. Plan providers must be used to receive benefits. Coverage outside the network is for emergencies only. Coverage is available at all in-network walk-in clinics nationally.*
Outpatient mental health/substance abuse will follow PCP (not specialist) cost share.
CVS Health Virtual Care™ — bundled with CVS Health Virtual Primary Care™ — provides access to general medical acute and mental health counseling services via the CVS virtual health care platform; CVS Health Virtual Primary Care is designed for members who may not have a PCP and prefer virtual access; 24/7 $0 virtual care* through CVS Health Virtual Care.
Plans include mental health at in-network providers.
Up to a $100 yearly allowance* to use on hundreds of over-the-counter health and wellness items at CVS® retail stores and online.
Network highlights


The retail pharmacy network is the Aetna® National Network. It consists of over 66,000 pharmacies nationwide including Costco, CVS Pharmacy®, Publix, and Walmart. Find all participating pharmacies in your area.
Reciprocity: In-network providers will be covered in all service area counties
Network providers in our service areas below include, but are not limited to:
 
Crisp Regional
Emory Healthcare
Grady Health System
Memorial Health
Phoebe Health System
Piedmont Healthcare
Check out our plans – there may be one for your clients!
Have clients looking for 2024 plans or who qualify to get coverage today? Simply search your client's ZIP code to see if our plans are in their area.
We're not in your area … yet
We've got plans to bring our ACA individual & family plans to more areas. For now, let's make sure your clients are covered.
 
If your client had a big life change, they can still get coverage for 2023. Visit the Health Insurance Marketplace® to shop for plans and see if they qualify for financial help.
 
Remember to visit the Marketplace on November 1 during Open Enrollment to help your clients choose their 2024 plan.
 
For all Virginia counties:
Open Enrollment is here. Your clients can start their shopping experience for 2024 Aetna CVS Health® or Innovation Health® plans by visiting Virginia's Insurance Marketplace. 
 
You can also check if your clients can get coverage for 2023.  Visit Producer World® to access our quote and enroll tool.
Not a current broker? Join our team.
Questions? We're here to help.
Get in touch with us
Our broker support team is ready to assist you with all your questions.
Notes
*FOR IN-NETWORK WALK-IN CLINIC VISITS: For a complete list of participating walk-in clinics, use our provider lookup. Includes select walk-in clinic services. Not all walk-in clinic services are covered. Please consult benefit documents to confirm which services are included. However, such services are covered at negotiated contract rates. Access to walk-in clinics varies by geography.
*FOR $0 VIRTUAL CARE: Members may be required to pay a cost-share based on what medical services were received and the type of provider a member visits. Please consult benefit documents for more details. However, such services are covered at negotiated contract rates. CVS Health Virtual Care is only available in the United States. Limitations may apply based on services and location. 
*FOR $100 ALLOWANCE: $25 allowance each quarter to use on select CVS Health® brand products. Unused allowance does not carry over to the next quarter. This benefit is not available in California, Maryland, Missouri or New Jersey.
Legal notices
Health plans are offered or underwritten or administered by Aetna Health of California Inc., Aetna Health Inc. (Florida), Aetna Health Inc. (Georgia), Aetna Life Insurance Company, Aetna Health of Utah Inc., Aetna Health Inc. (Pennsylvania), or Aetna Health Inc. (Texas) (Aetna). Aetna and MinuteClinic, LLC (which either operates or provides certain management support services to MinuteClinic-branded walk-in clinics) are part of the CVS Health® family of companies.
Providers are independent contractors and are not agents of Aetna. Provider participation may change without notice. Aetna does not provide care or guarantee access to health services. Information is accurate as of the production date; however, it is subject to change.
Health benefits and health insurance plans contain exclusions and limitations.